Howdy folks,
As you may know, I ran a (surprisingly) successful IndieGoGo campaign at the end of 2012 to get some Aussie Block Dice made.
It was a big hit, and I ended up with something like 21 thousand dice to sort through and post. The thing about mass producing dice is that in large quantities it's quite cost effect, but it has to be in
large
quantities. So even after fulfilling all of the IndieGoGo pledges, donating extras to tournaments and generally living it up as the Dice Baron I still had thousands of dice left in my garage going into the second half of 2013.
So, after the NAF had it's kerfuffle about the dice and we were all talking about the NAF, the community in general and how we could do more to support it, I had a great idea! I got in touch with the NAF upper management and made them an offer.
The deal I made was that I would send them large quantities of dice in prize support, in exchange for a nominal fee plus postage costs. I would then take the funds I raised through this, and funnel them back into the Aussie community. So the NAF as a whole would win by getting loads of lovely prizes internationally, and the funds they were spending were then being turned around and used here. They were happy with the suggestion, and all up I think I've sent nearly 1000 sets of dice internationally since then.
This still hasn't totally depleted my stockpile either
After chatting about it with Babs, what I decided to do with the cash was get a new gift made for the Australian branch of the NAF, as an extra to go along with whatever the 2014 NAF gift is. We threw around a few options, and eventually I settled on a lapel pin of the NAF Aus shield. I also got a gift made for 2015, but that's a story for another day.
I decided on a pin because they are small, collectable and look great. You could pin it on your carry case, dice bag, league shirt or even use it as a reroll or turn marker. Using Euc Bowl funds I also got my 2014 coin made to save on postage, and I liked the Pin idea so much I also got a Euc Bowl pin made!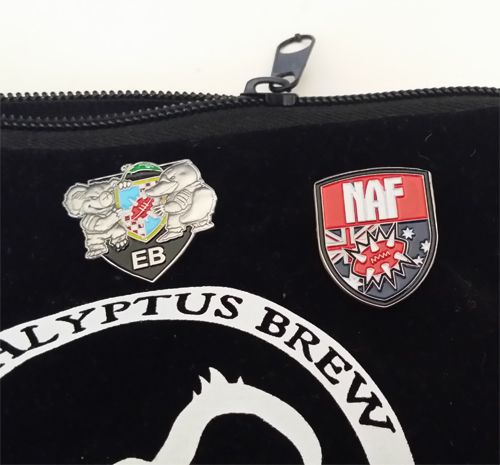 Here is the NAF Australia and Euc Bowl pins, they are 25mm high and look just stunning! They are made by the same company that makes the Eucalyptus Bowl coins, and other coins you've seen too like the new
Hindley Street Bowl Ogre Coin
.
And this is where it gets really interesting... the quality of the pins are top notch, but I was pleasantly surprised by how cheap they were to get done in a reasonable quantity. So I had funds left over, and I wasnt sure yet what to do with them.
After thinking about it, and chatting with a few people, I decided to extend a helping hand to some of my fellow tournament organisers and help them get pins done too. They contributed some of the costs, and I used my remaining funds to cover the rest.
Here are the results, for CanCon, SSB and Blocktober:
The idea is to try and encourage more people to get out of their home town and see the awesome stuff going on in Australian Blood Bowl all across the country. So if you go to one of these events in the next few years, you'll be getting one of these lovely pins that you can add to your collection.
What's that? There is a fourth pin? Oh, yeah I guess there is!
Well that'd be the Ausbowl pin, which will be a free gift to everyone in the community who decides to become an "Ausbowl Legend" in 2014. DC and I are working on releasing the details shortly, but basically it's going to be similar to the 2011/2012 user subscriptions, with most of the funds going to providing prize support to tournaments and leagues, helping more events get pins done if they wish, that kind of thing.
We'll make another announcement once that's up and running, but for now I wanted to finally share the background behind the awesome gear you're going to start seeing around the scene!
It's going to be an exciting year for Australian Blood Bowl