On the eve of January 1, 1900, the leaders of Europe celebrate the new century by proclaiming the Concert of Europe. Long may our dominance last...
Welcome to the first AusBowl Diplomacy game.
The rules of Diplomacy can be found here:
https://www.wizards.com/avalonhill/rules/diplomacy.pdf
Please make sure you've read the rules, but the key elements and slight changes for the online format are below.
Players
Random.org has spoken, and the players are:
King Mathfuric V of Britain (UK)
President Olaf, 10th President of France
Keizer Matthias the Great (DazedMW) of Germany
Tsar Rabid II of Russia
Sultan One Eye V of the Ottoman Empire (Turkey)
King Chavo III of Italy
Emperor SinDex I of Austria-Hungary
Rounds
The game will run in 48 hour rounds, each round representing either Spring or Fall of the year (in order) and beginning in Spring 1901. I will set a cutoff time (may not be exactly 48 hours, but will be as close as possible while maintaining a regular time of the day - probably 7pm).
During each 48 hour round, each player will need to conduct Diplomacy with other players and submit orders to SinDex. Diplomacy may be conducted via public post in this thread and/or via pm (or other contact) with other players.
Following a Diplomacy/Orders round will be a 24 hour Retreat/Supply round where players will be asked what they want to do with retreating forces and, after Fall, where they want to place new forces.
Orders
Orders must be submitted by the cutoff, and I will ONLY accept the first set of orders sent (i.e., you cannot change them once you have sent them through). You MUST place the word "Orders" in the title of your orders pm (if you do not there is a chance I will read them prior to submitting my own orders).
When submitting orders please conform to the format in the rules. The valid orders are Hold, Move, Support, Convoy.
Map
Below is a map that shows the territories: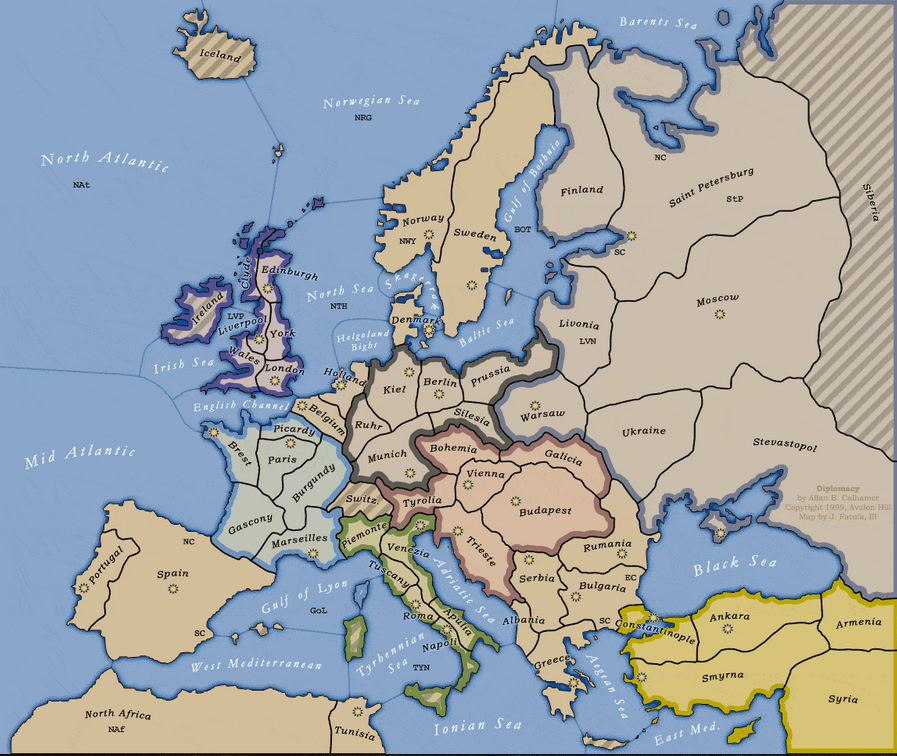 Each turn I will post a map like the one below showing current positions of each fleet and army, along with a list of the supply centres currently held by each player.
Pre-Game: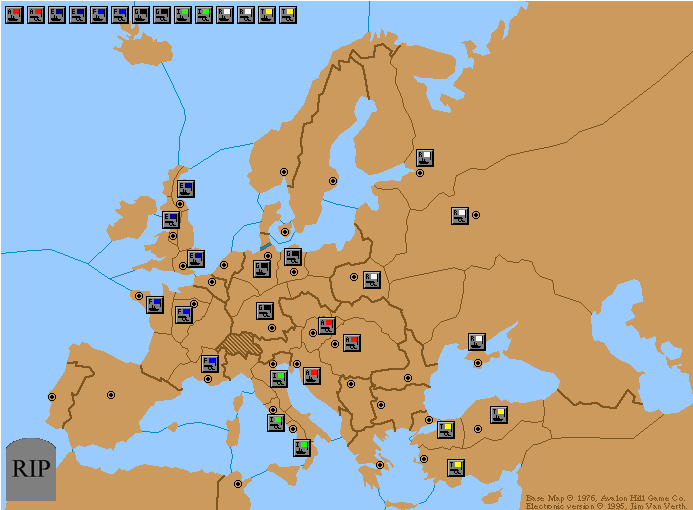 UK Mathfuric 3 (London, Edinburgh, Liverpool)
France Olaf 3 (Paris, Marseille, Brest)
Germany DazedMW 3 (Berlin, Munich, Kiel)
Russia Rabid 4 (Moscow, Sevastapol, Warsaw, St Petersburg)
Turkey One Eye 3 (Ankara, Constantinople, Smyrna)
Italy Chavo 3 (Rome, Venice, Naples)
A-H SinDex 3 (Vienna, Budapest, Trieste)
Let's get started:
Spring 1901 (Round 1)
Orders Deadline: Monday 13 April, 7:00pm CST