Hi guys,
Round 3 the Ork Bowl (due to the fact we are at Orktoberfest) is coming up. It will be once again at the
Enogerra Bowls Club at 72 Pickering St, Enogerra, Brisbane.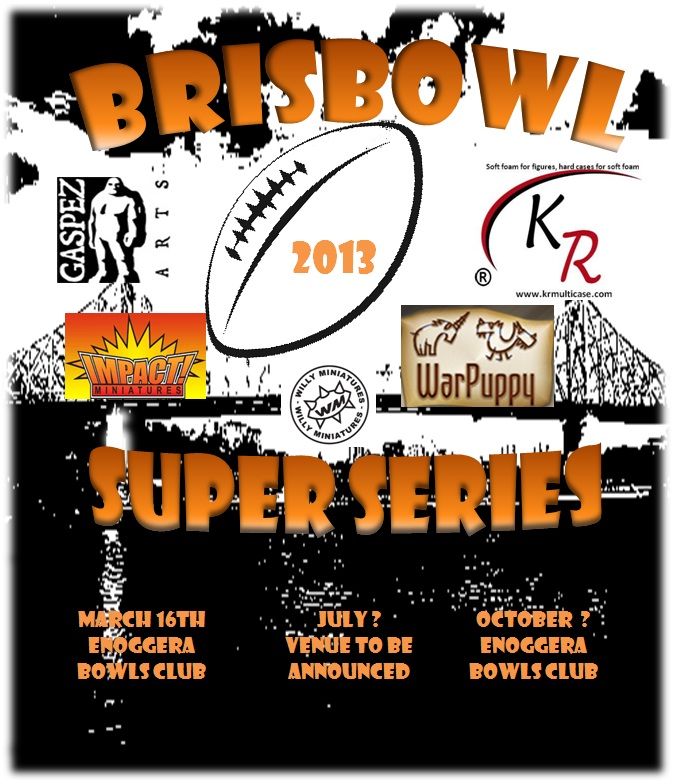 Well due to a change in personal lifestyle (twins
) BrisBowl has changed to the BrisBowl Super Series. Three separate one day events which when combined will create the an overall BrisBowl champion (see below). These events will be NAF sanctioned.
Each event will have a different twist to it but all will be set at 1250TV and 4 games per round ( if 10 or more players).
Cost
: (QGG members pay only $20) $25 after the 1/10/13 or on the day. As an incentive to pay in advance the first
dozen
who pay before the 1/10/13 will get the choice of either a set of Golden Soil or Aussie Block dice (see below) plus matching 2 d6's.
As mentioned each event will be separate but will create points for attending. Depending on the number of players will depend on your points. The winner of each round will receive a bonus 50% of the total attendees, 2nd 25% and 3rd 12.5%. So for example if 16 coaches play first will get an extra 8 pts (24), 2nd 4 (19) and 3rd 2pts (16). If you finished 10th you get 10pts. The overall points winner will receive the series champion trophy and prize.
Round 3
Rego: 8:30am for 9am start
For round 3 as noted the TV will be 1250 of 4 games with 2 hour limits that will be strictly enforced.
All teams allowed as per the CRP.
20k for normal skills, 40K for doubles. Stunty (Goblin, halfling, skink and goblin underworld) teams may purchase 2 star players, all others may purchase 1.
The twist for round 3 one are the sponsors want to see some bang for their bucks.
Ork Bowl rule: any star player allowed on your team
plus
Coaches have the following options:
1: Bonus 150k to be spent on inducements (cards, apoth, wizard etc)
2: 2 extra skill normal skill that can be stacked on 2 players of your choice (not star players) & 50k to spend on inducements
3: 1 single normal skill and one Double skill can be stacked on 2 players of your choice (not star players).
NOTE: you cannot use the 150k to buy players from you TV. You must create a 1250TV team and then get the bonus.
Payment: Money can be deposited into the following account or BABBL players can pay in person.
Jason BEASLEY
Comm Bank
BSB: 064110
ACC: 10270860
Qoute: your name
Paid
Chris Stratford (devilsreject)
Stephen Mahaffey (Risky)
Jamie French (Suffer)
Jason Beasley (Beaso)
Nick Ashby (Rednick)
Damian Ashby
Cheers