Hey Guys, im about to do an order for some dice through Chessex for some of these
Updated Pics with changes as stated below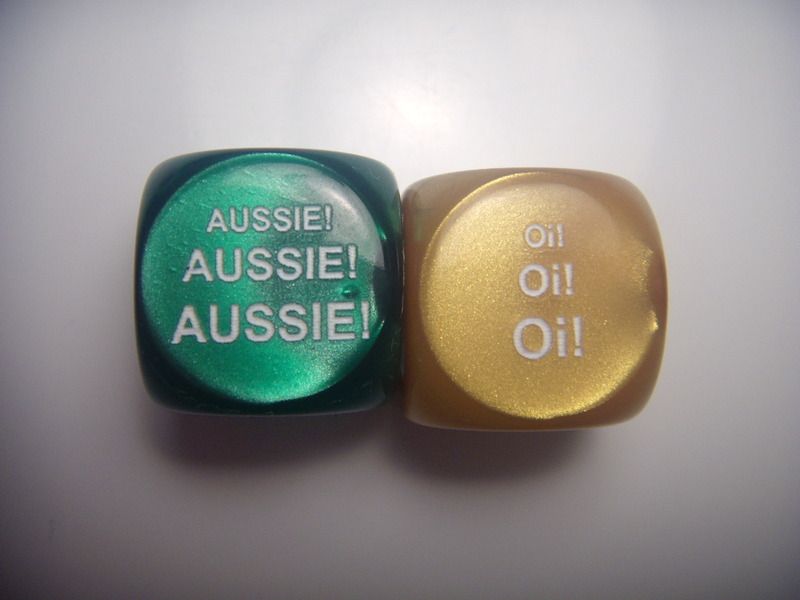 To use at the World Cup and just in general because you can never have too many dice! The writing is on the "6" side BTW
NOTE: I will be changing the "OI!" to "Oi!" as i think it will look better but you get the picture.
**EDIT: Updated pictures are what you will receive**
They wont be here for a while yet as they havent been ordered so if you would like a set or ten just put up your hand here, ill put the order in on
JUNE 10
Price will be $4.00 per set of 1 x green and 1 x gold like in the pictures. Postage can be worked out in groups if you want to get them sent to one place and distributed by someone or if we are lucky they might get here for Eucbowl which ill mule them to if they arrive in time.
Name / # of Sets
Devils / 12 sets
Tribal / 3 sets
Olaf / 1 set
Nichren / 2 sets
Jonno / 2 sets
Creature / 2 sets
Gnome / 10 set
Easykicker / 2 sets
Charger / 2 sets
Xac / 2 sets
Viking / 2 sets
Hutchie / 11 sets
Gunnar / 10 sets
Mathfuric / 1 set
One Eye / 1 set
Sumbloke / 1 set